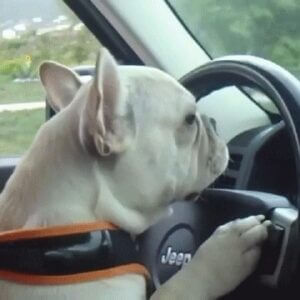 IF THE CAR IS TOO HOT FOR YOU TO BE IN IMAGINE HOW HOT IT IS FOR YOUR DOG!
A DOG CAN TOLERATE ONLY SO MUCH HEAT
Maybe next time you take your dog to go shopping on a really hot day,  you stay in the car and let your dog do the shopping.   Of course,  that's absurd but do this if you can.   On a really hot day take a walk down the main street or at a busy parking lot of a grocery store and count how many people are sitting in their cars.  You probably won't find any because they're not about to stay in a boiling hot car and yet a scarce few  (thank god there scarce) of these very same people won't hesitate to leave their dog in the car.  Oh yea,  leaving the window open a crack really helps since on a 90-degree day it has been found that the inside of a car can get as high as 130-degrees.
Most dogs can safely tolerate temperatures of around 90 degrees.  But also humidity is an extremely important factor in heat tolerance and high humidity can make things much worse in a short amount of time.   The first thing never to do is to leave your dog in a parked car on a hot day,  a warm day doesn't make it any better.   Leaving the car's air conditioning on isn't a solution either.  Keep an eye on the humidity and if it's bad  (high),  be more careful than ever to what your dog is exposed to.  Dogs don't sweat and cool themselves by panting but that can do only so much.  WHEN MY DOG STARTS PLAYING OR CHASING THINGS  ON A HOT DOG I'LL ONLY ALLOW IT FOR A FEW MINUTES.  THEN I WILL TAKE HER INTO THE HOUSE AND PUT THE FANS ON HER AND TRY TO GET HER TO DRINK SOME WATER.
A dog's normal temperature is between 100 and 102 degrees,  but if their body temperature exceeds 104,  heat stroke is imminent.
Any activity must be limited on very hot days and if your dog is dark-colored even warm days can be a problem.  If your dog is outside make sure he has enough shaded areas or just keep him indoors out of the sun.  Make sure your dog has plenty of water at more than just one location.  Cool bathing water if you have it can also help relieve your dog's discomfort.
WHAT ARE THE SIGNS?
If your dog becomes lethargic,  starts panting much more than usual,  salivating,  shows incoordination,  vomiting,  diarrhea,  and a rapid heart rate are the most obvious indications of over-heating.   If you suspect this is happening,  it is an emergency and cooling them down is essential.  Then as a precaution take them to a veterinary emergency center.   Also,  know that certain long-haired breeds and overweight dogs have a harder time dealing with excessive heat.  The brachycephalic  (meaning short muzzle)   structure of some dogs' faces can make it more difficult for them to breathe.
BOTTOM LINE
All of this can be avoided by what you have learned and just common sense.  Be conscious of your dog on any hot day and keep them away from any hot areas.  Try to keep them as cool as possible.  You love your dog so show it and spare them from any undue suffering.
DOGS AND HEAT DON'T MIX
NOW LET THE EXPERTS EXPLAIN IT TO YOU
There are several names:   Heat exhaustion,  Heat Stress,   Heat Stroke,  and all mean the same thing a marked increase in body temperature caused by external/environmental factors,  not fever.  One of the very best sources of science-backed data on dogs is the Cornell College Of Veterinary Medicine http://vet.cornell.edu
A dog's increase in body temperature can be a life-threatening emergency.   A normal temperature for a dog is 102F.  If it reaches 105F start getting worried and act fast.
Since dogs don't sweat like we do all they can do is pant.   With every breath,  evaporative cooling occurs as air passes over the moist tongue and upper respiratory tissues.   As the dog gets hotter,  the tonque  will get wider and longer as his body tries to increase the available surface area for evaporative cooling.   Not super efficient even during normal times.
Heatstroke in dogs has a 50%  mortality rate,  so it's extremely to protect him from getting overheated.  Be aware of early signs of heat stress.   Take extra care with overweight dogs and brachycephalic breeds.  Both have a diminished capacity for cooling due to decreased airflow over the upper respiratory tract,  so may overheat more quickly.  BY THE TIME YOUR  DOG SHOWS OBVIOUS SIGNS,  IT MAY ALREADY BE TOO LATE.
WHEN YOU SEE THESE SIGNS TAKE IMMEDIATE ACTION
Heavy panting
Wide, long tongue
Glazed-over eyes
Excessive drooling
THESE SIGNS INDICATE AN EMERGENCY
Weakness
Disorientation
Incoordination
Bloody diarrhea
Collapse
Seizures
Coma
When you see the first sign of heat stress,  stop the exercise and get the dog to a shaded area.   The dog needs cold water on his trunk,  belly,  armpits,  and groin areas.  Running water is best,  but if you don't have access to it then soak towels with what water you have and rub them all over your dog's body.   Some experts suggest an ice pack around the dog's head,  too,  as brain injury is common with heatstroke.
As you are doing this,  ask someone to start your car and put on the AC at high.  Keep cold wet towels on the dog, and go as fast as you can to a veterinary clinic.  Be sure to call ahead to let them know that you're on the way.  Hopefully,  your dog will be one of the 50% that survives.