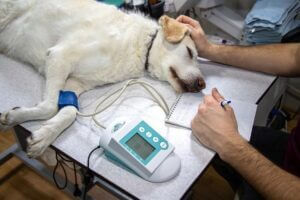 JUST WHAT IS PANCREATITIS?
When a dog's pancreas becomes inflamed it is called pancreatitis.  It actually is a common health issue in dogs and cats.  It happens when digestive enzymes that are stored in the pancreas get activated prematurely  (usually they aren't active until they are released into the intestine)  and start to  "digest"  the pancreas itself.  Severe damage to the pancreas can be caused by these enzymes.
What causes pancreatitis?  There are many potential causes of pancreatitis.  When it comes to dogs,  it is associated with high levels of fat in the blood,  especially triglycerides,  which is more common in some breeds like miniature schnauzers.  It can also be associated with  "dietary indiscretion" – a dog getting into garbage or getting food off the table,  especially high-fat foods for a dog that is not used to eating a high-fat diet.  In cats,  who are less likely to get into  "bad"  foods and typically less fat-sensitive,  pancreatitis is more commonly associated with inflammation in the liver and also the intestines,  but can also be seen by itself.  In both dogs and cats,  a clear cause is often not found.
WILL YOUR DOG GET SICK?
Dogs and cats can become very sick with pancreatitis.  Severe vomiting and abdominal pain are frequent signs in dogs with acute pancreatitis but more chronic cases can result in less dramatic symptoms such as reduced appetite or lethargy.  Cats are more likely to present with chronic pancreatitis and their signs tend to be lethargy and refusing to eat as well as weight loss and less commonly vomiting or diarrhea.  Pancreatitis is most often separated from other causes of vomiting,  abdominal pain,  lethargy, and reduced appetite by specific blood tests or abdominal ultrasound.  Unfortunately,  in most cases, there is no specific treatment.  Fluids,  pain meds,  and medications to reduce nausea and vomiting are used to keep the pet more comfortable while the pancreas heals.
PANCREATITIS LIVE
PROPER NUTRITION FOR DOGS WITH PANCREATITIS
For dogs, the diet may be a risk factor for the development of pancreatitis and is often considered as part of the treatment.  Some dogs do not do well on high-fat diets and may develop gastrointestinal signs,  increased fat levels in the blood,  and/or pancreatitis.  To prevent future problems in these dogs,  a lower-fat diet and monitoring of blood work will typically be recommended.  Some dogs may need special therapeutic low-fat diets because normal diets that you buy at pet or grocery stores may be too high in fat.  A small number of dogs will need home-cooked diets that have the lowest possible fat to reduce pancreatitis risk,  but this isn't common.  Fish oil may have some benefits for reducing blood fat levels and pancreatitis risk in dogs where this is a consistent concern.  Drugs used in people for high blood fats  (triglycerides and cholesterol)  may also be used in dogs with similar health issues.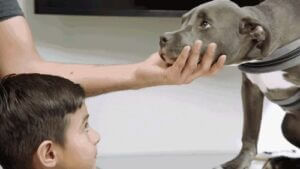 When a dog has normal levels of fat in their blood but develops pancreatitis after dietary indiscretion,  a low-fat diet  (probably a therapeutic low-fat diet) will usually be used during the initial recovery period.  They may be able to transition back to their normal diet when they are completely recovered.  But if bouts of pancreatitis happen recurrently,  additional diagnostics and a long-term low-fat diet are usually appropriate.
Being overweight may also be a risk factor for the development of pancreatitis in dogs.  Weight loss may reduce risk and conveniently,  most diets with nutrient and calorie amounts appropriate for weight loss are also lower in fat.
THE RISK OF PORK FAT
There have been some claims that the fat in pork increases the risk of pancreatitis in dogs.  There is NO EVIDENCE to back up this assertion,  however,  any association is likely because dogs tend to get into the higher fat pork cuts that are left over after a meal or thrown away.
THE DIET
To sum up,  the problems associated with pancreatitis in dogs usually points back to his diet.  Fats seem to be a major problem so watch and monitor the fats your dog gets in his/her diet.  Dogs are not with us nearly long enough so let us make sure their life is as healthy as possible, and hopefully,  they'll be with us longer.