WE MEASURE A DOG'S AGE DIFFERENTLY TODAY THAN IN THE OLD DAYS
WHAT TO LOOK FOR TO DETERMINE A DOGS AGE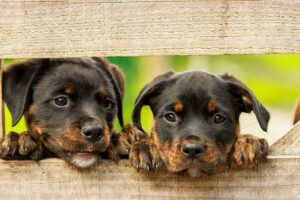 When you get a dog but don't know it's history one of the first questions usually asked is  "how old is the dog."   It's fairly easy to answer by means of the teeth until the dog is five years old.   After that,  the question is difficult unless the general appearance,  such as gnarled claws and white hairs,  are taken as an indicator.   Some dogs are prematurely old before their time,  however,  while others have had such excellent care that their span is prolonged.   These variations complicate a decision.
After the puppy is a month old twenty-eight milk teeth appear,  consisting of twelve incisors,  four canines,  and twelve molars evenly divided between the jaws.   The coming of these teeth,  therefore,  is one indication in the age of a puppy.   Their departure is another,  since at about four months they begin to disappear and continue to process for a month to six weeks,  generally being out by the sixth month,  although occasionally this moulting continues into the eight month.
When the puppy is between four and five months old,  the center and intermediate incisor teeth change to permanent ones.   The fourth molar also makes its appearance at from five to five and a half months,  and the end incisors become permanent ones.   The canine teeth,  or tusks,  also change from the temporary to the permanent.   The first three pre-molars fall out and the fifth pre-molar makes it's appearance.   Between six and seven months the sixth and last molar in the upper jaw appears,  the seventh molar appearing shortly after the lower jaw.
By this varying but more or less scheduled course of Nature it is possible to tell the age of a puppy up to seven months.   From then on till a year old the age may be determined by the size and length of the permanent teeth.   When the dog is between one and two years old the center incisor begins to show wear on the bearing surface.
Between two and three years of age,  the second or intermediate incisor begins to show similar wear.
When the dog is between four and five years of age,  the end or corner incisors show a wearing down of the bearing surface.
After that,  the age can only be determined by one who sees a great many dogs and can approximate by the general appearance of the animal and his surroundings.