JUST WHAT IS A PITTIE
Many people who work in animal shelters bunch the Staffordshire Bull Terrier,   American Bulldog and American Bull Terrier into the term "Pittie".   This terminology has now morphed into a macro-category used as a metaphor to describe dangerous dogs.   Lets clear up this misconception once and for all.
JUST WHAT IS A PITBULL
A pitbull is a type of dog (not a specific breed),  which is often used to classify a number of purebred and mixed breed dogs.   Within this type of dog there are a number of Pitbull Breeds including:
 American Pitbul Terrier (APBT)
 American Bulldog
 American Staffordshire Terrier
 Staffordshire Bull Terrier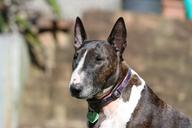 In the past the British during the middle ages where fans of blood sports known as bear and bull baiting,  where they would tie a bull or a bear to a post in a pit and set a dog to attack.
The British of the times cross-bred bulldogs for their strength with feistiness of terriers.   There aim was to breed strong,  powerful and aggressive dogs.   Once these blood sports were outlawed they turned to dog fighting because it was easier to conceal as an underground operation.
The different types of pitbulls are still widely used in illegal dog fighting rings to this very day.
With this kind of history,  this type of dog has been given a very bad reputation and are banned in a large number of states and municipalities across the U.S.,  largely erasing their history of being known as a nanny dog.
The truth is that when raised in the right hands,  with early socialization and consistent training,  they can be the most loyal and loving dog you could ever wish to have.   These dogs carry a contagious zest for life which brightens your day.   Did you have a crappy day at work?   Well nothing can beat the smile and wagging tail that greets you every day when you get home.
Pitbulls are very intelligent and love to please you.   This  makes them trainable and obedient;  this is actually their downfall.   They will do whatever you ask them to,  this is how they get themselves into the wrong hands.   If you train them to collect the mail,  they will.   If you train the to fight,  they will.
(APBT)  AMERIAN PITBULL TERRIER
The APBT is a purebred dog,  but,  due its bad history is not recognized by the American Kennel Club.
The APBT is taller than some of the other Pitbull Breeds,  usually around 6-8 inches taller than a Staffordhire Bull Terrier.
There are a lot of breeders that argue that only the true Pitbull dog is the APBT.   Most breed specific legislation applies to the APBT and the American Staffordshire Bull Terrier.
Under the APBT,  you may notice that some dogs are named either a Rednose or a Bluenose.  These aren't a separate breed,  they are just particular color of the purebred dogs.
All the same characteristics and qualities of the pitbulls are present,  but because they may be more sought after,  over-breeding is resulting in more prevalent health problems.
It's easy to spot a Rednose from birth;  they will have a red/copper/brown tone to their fur,  nose,  eyes and toenails.
Often described as a rare breed,  you will notice that he price tags for these incredible dogs are on the high side.
Besides the color,  they really are just like all the other APBTs;  intelligent,  trainable,  loyal and gentle.
They will be a good mix for most families if they have experience with a large,  powerful dogs.   Give them time and patience,  for training and socialization and they will give your their whole heart.
The bluenose is also easily spotted by the blue and grey tones to their fur,  eyes,  toenails and noses.
Just like the rednose their price tags are just as high.   Like the other pitbulls,  these guys are fun loving and just love their families and thrive when they are busy,  exercising or playing in the yard.
The downside of the Bluenose is their health.   As the blue and grey hues are caused by a recessive gene resulting in low melanin levels,  it can cause a range of health problems including a weakened immune system,  deafness,  cataracts,  alopecia and a range of heart problems.
Be aware that both the rednose and bluenose pits are a result of breeding bluenoses with bluenoses,  and rednoses with rednoses to result in the desired color.  The gene pool for both types could potentially be small which can result in more prevalent health issues.
DIFFERENT TYPES OF MIXED PITBULL DOGS
Widening the gene pool,  there are some very popular Pitbull breeds which are a Pitbull Mix  (a cross breed)
ROTTWEILER PITBULL MIX
The Rottweiler Pittie Mix is not a purebred dog but as a result of mating a purebred Rottweiler with a purebred APBT.
We end up with a hybrid dog that is an incredibly strong and loyal companion known as the Pitweiler.
A muscular dog which some say presents itself as very intimidating but this isn't true.   When trained and socialized from an early age,  you end up with a dog by your feet with a wagging tail and smile.
While it's impossible to completely predict the temperament of a hybrid dog,  both parent dogs have very similar characteristics;  loving and confident.
It is worth noting that Rottweiler's are renowned for sometimes being aloof!   You may end up with this quality in your Pitweiler.   This can cause some hurdles for your training of them.
THE PITBULL HUSKY
The Pitsky is a mix of a male Pitbull and a Husky (this can be an Alaskan Husky or a Siberian Husky).   A Pitsky is playful and affectionate with a mix of intelligence and cheekiness.
These hybrids do the best with busy households and an active lifestyle.   As with any hybrid they can retain the characteristics from either parent.   A bored Husky will dig, chew and howl;  they are also master escape artists.   If your Pitsky is more Husky like,  you have to take these behaviors into consideration.   While they can be a handful,  they are an affectionate and enthusiastic mix who will keep you on your toes.
SO WHAT IS THE BEST PITBULL?
So if you have had experience with large,  powerful dogs and have the time and patience to give them,  then what you will receive in return is a wonderful dog.   They are loyal,  gentle and wear their heart on their sleeve.   A dog which carries a contagious zest for life.
Yes we know they have a horrible reputation,  which may take many years to remove,  and face bans or restrictions in certain areas,  and are involved in the most dog bite related fatalities compared with any other breed.  But,  we also know that when temperament tested by the American Temperament Test Society,  Pitties pass 87% of the time.
The American Temperament Test Society's test simulates a dog walk to trigger various experiences to understand a dog's ability to differentiate non-threatening and threatening scenarios.   A fail would be aggression in a non-threatening scenario,  panic (and no recovery) or strong avoidance (shyness).   For example and not to single out any breed but for a comparable sample size,  the Schnauzer has a pass rate of 77%.
With a pure bred Pitbull you will have more of a chance predicting their characteristics and temperament,  but with a hybrid you will never really know what you'll be getting.  You may end up with more Pittie than Husky,  or more Rottweiler than Pit.
SOME PITBULL  FACTS AND MYTHS
MYTH NO. 1
They are involved in the most dog bite related injuries.
True,  but,  they also pass the American Temperament Test Society's own test 87% of the time.
MYTH  NO. 2
They are banned or restricted in many states or municipalities in the U.S.
True.   They are banned in 1089 cities across the U.S. and there is breed specific legislation including bans or restrictions on Pitbulls.
MYTH NO. 3
They are aggressive.
True-but every dog has the potential to be aggressive.   Aggression in dogs is defined as the threat of harm including,  snarling,  growling,  lunging or biting.   Remember though that these behaviors aren't specific to Pitbulls,  the most common cause of aggression in dogs is fear and anxiety;  those are emotions that every dog can feel.
MYTH NO. 4
They are actually really trainable.
True – Bull terriers come in as an average working dog,  who generally will learn a new trick or task after 25-40 repetitions compared to a Shih Tzu;  who on average takes 40-80 repetitions.
MYTH NO. 5
They make incredible working dogs.
True – There is a story about a dog named Weela who,  when the river Tijuana flooded,  guided search teams through the flood to save victims and carry food and resources to those stranded!    For this great service she received the Dog Hero of the Year Award.
MYTH NO. 6
Pitties do actually smile.
We're not so sure about this as there hasn't been any real scientific proof,  but if you ask a Pitbull owner they agree that they do.
While we've discussed all of the positive attributes of the faithful Pit,  just make sure that you are realistic with your expectations and your ability to handle a dog of this type.
COMPLETE LIST OF PIT BULL TYPE DOGS AND BREEDS
 American Pit bull Terrier
 American Staffordshire Terrier
 Staffordshire Bull Terrier
 Chocolate Pit Bull
 Blue Nosed Pit Bull
 Red Nosed Pit Bull
 Blue Pit Bull Puppy
 Moo Moo Pit Bull Puppy
 Black Pit Bull Puppy
 Gator Pit Bull
 Brindle Pit Bull
 Razor Edge Pit Bull
 Colby Pit Bull
 Gotti Pit Bull
 Blue fawn Pit Bull
 Whopper Pit Bull
 Royal Blue Generation Pit Bull
 Benmar American Pit Bull
 Bullyson American Pit Bull
 Ablepaws Pit Bull
 Grey Line Pit Bull
 Rough Neck Pit Bull
 Wildside Pit Bull
 Tri-Colored Pit Bull
MORE ABOUT THE STAFFORDSHIRE BULL TERRIER
IS THIS THE RIGHT DOG FOR YOU?
Knowing the temperament and personality of the dog will help you determine if he or she is right for your family.
TEMPERAMENT & CHARACTERISTICS
Of course every dog like us has it's own personality, but there are some things that you can  expect to find in every Stafford.   The dogs are tough, courageous,  tenacious,  stubborn,  curious,  people-loving and comfort-loving,  protective,  intelligent,  active,  quick, and agile,  and possess a strong  "prey drive".
They are extremely  "oral"  kids and need a safe alternative to furniture,  toys and clothing for those jaws of theirs.   Staffords love to play tug-of-war and to roughhouse,  but YOU have to take control and set the rules,  the dog has to know who's boss.  This is not as tough as it may seem if you begin working with your Stafford when they're a puppy.
Almost all adult Staffords,  particularly bitches,  make excellent watchdogs:  but in general they are inclined to protect people and not property.   Their alert,  muscle bound appearance is so imposing that it's easy to forget that they are smaller than most American Pit Bull Terriers.  In the book  "The Staffordshire Bull Terrier in America"  author Steve Eltinge says,  "When a Stafford shows its teeth in a snarl,  it can be frightening.   They look tough and can be a positive deterrent to thieves,  but because of their natural fondness for people,  most Staffords are temperamentally ill-suited for guard or attack-dog training."   As with other members of the Bull and Terrier family,  they can be the biggest people lovers in the world!
A Staffordshire Bull Terrier desires,  more than anything else,  to be with his people.   Most adore a car ride,  going on hikes and walks,  enjoy a day at the beach,  and cozying up  (or on) to you when you settle down for an evening of TV or reading.
Whatever the activity,  "From the time it wakes up in the morning until the quiet of night,  a Stafford lives life to the fullest."
CARE AND TRAINING
TRY TO REMEMBER THAT EVERY INDIVIDUAL IS DIFFERENT AND EACH OF THESE DOGS SHARES A COMMON ANCESTRY.
ARE STAFFORDSHIRE BULL TERRIERS GOOD WITH CHILDREN
The Stafford is known by the affectionate nickname,  "The Children's Nursemaid" or "The Nanny Dog."   Their tolerance of,  and affection for,  children is well known.  That doesn't mean,  however,  that it's a wise idea to put the puppy and child together without supervision.   Children should learn to respect the dog and neither should indulge in play that is too rough.  Some Staffords  –  even males  –  have a "mothering instinct" and will stick right by the kids,  whether they are puppies or kids.   A Stafford,  "tough"  and not as quick to react to pain or discomfort,  is likely to make allowance for the attentions of a toddler,  finding a refuge only when things become too overwhelming.
ARE STAFFORDS GOOD IN AN APARTMENT?  HOW MUCH EXERCISE SHOULD THEY GET?
Staffords can make a home with you just about anywhere;  they are happy as long as they are with you.   They are an athletic dog,  and therefore need more exercise than most other dogs.  With tons of energy,  they need vigorous exercise every day!   Long brisk walks on a leash  (I'd recommend a harness instead)  will give you both a workout.   Staffords love the heady freedom of being allowed off lead for a run,  hike or romp and it's wonderful to watch them.
ARE STAFFORDS A NOISY BREED?
No.  Staffords,  in general,  are not mindless and persistent barkers.   They may bark or  "talk"  while playing  (It's amazing the range of arggling,  yodeling,  grunting,  moaning and monkey noises,  they make),  or to alert you of a visitor.   However,  they are  "quick studies"  and if you have another dog in the home and that dog is a barker,  your Stafford will probably pick it up.
THEY HAVE A NICE,  SHORT COAT.   DO THEY SHED?
Yes.  At least once a year.   But because Staffords have a  "hair"  coat,  rather than a multi-layer  "fur"  coat,  they produce less dander and the shedding is minimal compared to what you might expect from a Golden Retriever or German Shepherd Dog.   The close,  short,  glossy,  "teflon"  coat loses dirt easily,  dries almost instantly,  and does not absorb odor.
WHAT ABOUT KEEPING A STAFFORD OUTSIDE?
Staffordshire Bull Terriers are not temperamentally or physically suited to spending long periods of time out-of-doors.   They need to be with their family and should be house dogs.   Given the opportunity,  they will convince you that they belong in the bed at night and will be most comfortable on the couch or in a car….wherever you may be.   If you are not comfortable with this kind of intense companionship,  do NOT buy a Stafford.   Stafford-owners-to-be should have a fenced yard where their dog can play in safety.   Remember that Staffords are terriers and can dig like the dickens.   They can turn your garden or their yard into a minefield and have been known to go under or over a fence.   Secure the bottom of the fence with an  "L"  of chicken wire.   If your dog is the climbing type,  a very tall fence or a  "Shelf"  around the top will discourage him.   To drive off thieves or those who might tease your Stafford,  do not leave him out in the yard for long periods;  you must supervise his outside time and take the opportunity to play with him.  Be careful because Staffords can overheat if they over-exert themselves on a hot day;  conversely,  their short coat offers little warmth in the winter months when they stop moving.   IMPORTANT:  Invisible fencing systems are not an appropriate alternative for Bull and Terrier breeds.   The Stafford's high pain threshold means that  –  if sufficiently provoked  –  he may cross the boundary with minimal discomfort.   Once out,  he must brave the boundary's shock to re-enter the yard.   Invisible fencing does not prevent strange dogs from invading his yard and harassing him . . . a potentially dangerous situation.
DO THEY LIKE TO SWIM?
They can be divided into three categories when it comes to water – 1)  They will do anything to avoid it,  2)  They like to wade and wallow,  3)  They enjoy full-body immersion and will swim,  dive,  and retrieve.   But no matter which approach your dog takes to water,  No Stafford is really very seaworthy or buoyant.  The percentage of body mass that is made up of muscle practically guarantees that they must work very hard to stay afloat.  Therefore,  a Stafford should Never be left alone near a filled swimming pool.  It's horrible to note that more than one of these dogs has paid with his life after falling in,  struggling to remain afloat,  and then tiring and sinking before anyone noticed.
CAN I KEEP A STAFFORDSHIRE BULL TERRIER WITH ANOTHER DOG OR CAT?
Staffords like members of any breed are individuals.   While some may live peacefully with other animals,  some will not.  Puppies brought up with cats and other dogs generally do well.   When bringing an older Stafford into your home,  first introduce the dogs away from the house in a neutral area.   It should be easier to bring a Stafford into your home than bringing a strange dog into the home of a Stafford.  Careful observation is required to see how the hierarchy develops.
WHAT'S BETTER A FEMALE OR A MALE?
Both will offer much love and affection.  Females tend to be better watchdogs;  males tend to be larger.   If you already have a dog in your home,  your choice is simpler;  If you have a male,  buy a Stafford female.  If you have a female,  buy a Stafford male.  This combination is the best,  especially in a two-Stafford home.   People sometimes ask about the wisdom of bringing two Stafford puppies home at the same time and most would advise against it.  Each puppy deserves individual attention and is less likely to get it as a  "twin."   Puppies are a lot of work!   With two puppies to keep each other company,  the temptation is often to let them amuse each other.   Sometimes your puppies will decide to bond with each other and place you second on the totem pole.  You don't want this to happen.   No matter which sex you select,  spay or neuter if you have decided not to breed or exhibit them.
WITH A BUSY SCHEDULE,  WHEN I'M HOME I LIKE TO WORK UNDISTURBED
By all means,  DO NOT BUY A STAFFORD!   These dogs crave attention,  companionship, and are tireless love magnets.  This can annoy those who are used to a dog that amuses himself,  is content to sit in it's basket,  prefers the companionship of another do,  or will settle for a quick occasional pat.  Ignoring a Stafford or shutting it away from you will only make your pet very unhappy and frustrated.
ARE STAFFORDS GOOD GUARD DOGS
Stafford were not developed as watchdogs.  Clare Lee,  writing in "The Pet Owner's Guide to the Staffordshire Bull Terrier"  notes that,  "he rarely barks,  greets all your visitors and may well let them walk off with the family silver."   If you want a  dog that will be suspicious of all visitors and actively repel them,  then choose one of the working breeds designed for that purpose.  Staffords will guard a car and will certainly protect family members  –  especially the weaker members  –  but they rarely  'guard'  the home.
WHAT KINDS OF TOYS ARE SAFE TO GIVE MY STAFFORD?
There are no such things as  "indestructible dog toys"  for Bull and Terrier breeds.  But some have tried these:  Boomer Balls,  Wolf-sized Nylabones,  Large-sized Kongs,  or some of the Puzzle Cubes.  Anything else might be chewed up,  swallowed or destroyed in short order.
SO DO YOU STILL WANT A STAFFORDSHIRE BULL TERRIER?
I hope this guide will help you into making the right decision.  But just let me tell you from personal experience,  they're great dogs but need a lot of work.