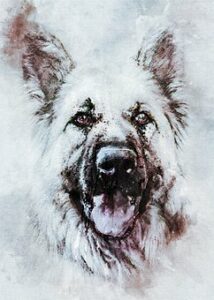 LOOK FOR THESE SIGNS THAT YOUR OLD DOG COULD BE SUFFERING
HERE ARE 10 SIGNALS THAT YOUR DOG COULD BE IN DISCOMFORT AND PAIN
When everything seems to get harder to do as we get older,  we assume it's just part of the aging process.   Well it's the same with dogs,  the difference of course is that they can't tell us so a remedy can be found.   There are many diseases and ailments an older dog can suffer from but these are some of the more common as suggested from https://www.petcarerx.com/
WHEN YOUR DOG SEEMS LETHARGIC AND DOESN'T WANT TO EXERCISE
Common with the aging process,  it can also be a symptom of a serious disease.   Most dog owners assume that this is part of them getting older and don't know that it could be the beginning of osteoarthritis or hip dysplasia.   Even more problematic is that dogs try to hide their pain from you which may have evolved as a defense mechanism and therefore you may not notice any signs of a problem.   With hip dysplasia look for stiffness,  bunny hopping,  the back legs giving out,  and when their walking is very slow.   If you continue to see these signs take your dog to the vet for an examination and remedy.
When suffering from congestive heart failure your dog will be uncharacteristically tired and unwilling to do any exercise.   As dogs age,  their hearts weaken.   Sometimes,  their hearts weaken so much that blood backs up in the liver and lungs.  If untreated,  dogs will cough up a foamy red substance,  in an effort to clean our their lungs,  because the heart has weakened too much to circulate blood on it's own.
Lethargy is a symptom of many very serious diseases such as,  Cushing's disease,  kidney disease,  Addison's disease,  hypothyroidism,  or cancer,  but it is still very easy to confuse with decreased energy do to the dog's aging.
IS YOUR DOG CONTINUALLY VOMITING AND HAVING DIARRHEA
Dogs will be dogs and sometimes the unpleasant result can be vomiting and diarrhea just from them getting into things that they shouldn't.   But when the dog is continually vomiting and having diarrhea,  it could mean Addison's disease is the blame.   Dogs suffer from Addison's disease when their endocrine system doesn't produce enough hormones for the body to function properly.   If your dog does have Addison's disease,  they'll  also show show signs of lethargy,  muscle weakness,  low body temperature,  and reduced heart rate.  For more information on Addison's disease go to: https://www.pethealthnetwork.com
Parasites like intestinal worms can also cause vomiting and diarrhea,  so can kidney disease,  hypothyroidism,  and upper urinary tract infections.   If it's hypothyroidism,  your dog will exhibit weight gain,  loss of fur,  lethargy,  frequent ear infections,  a dull coat,  thickened skin  ( especially noticeable around the folds of the eyes ),  and other symptoms that can be easily mistaken for the natural aging process.
WHEN YOUR DOGS PUPILS ARE BECOMING CLOUDY
Pupils that are becoming cloudy are a classic sign of cataracts.   Having cataracts is not a life threatening condition,  but if left untreated they can cause serious vision loss and glaucoma in your dog.   The early symptoms of cataracts can be very subtle;  pacing,  poor navigation because of bad eyesight,  and irritability are the most recognizable signs.   Only in moderately advanced cataracts will the pupils begin to cloud.   Because it is difficult to reverse the effects of cataracts,  you'll want to keep a constant eye on your dog's eyes to help protect them for the rest of their life.   Make sure you setup periodic appointments with your vet to check the health of your dog's eyes.
WHEN YOUR DOG MAKES FREQUENT AND PAINFUL ATTEMPTS AT URINATION
When your dog is make frequent attempts at urination it can be a sign of many diseases that affect older dogs.   Frequent painful urination can be a sign of bladder infection.   You will also be able to recognize cystitis by the unusual color of your dog's urine.   If it isn't cystitis,  the problem may be a lower urinary tract infection.   The dog's urine will appear cloudy,  have an unusual odor,  and may even contain blood.   Like cystitis,  dogs suffering from UTIs will need to eliminate frequently,  and they may even cry because elimination can become very painful.   Medications like Proin can help manage urinary incontinence in dogs.
But this could also be a sign of bladder stones.   Bladder stones occur frequently in aging dogs,  especially in older male dogs.   Look out for painful frequent urination,  weakness,  lethargy,  loss of appetite,  and blood in the dog's urine.
IF YOUR DOG IS STARTING TO HAVE ACCIDENTS URINATING AROUND THE HOUSE
Urinary incontinence can be frustrating for both you and your dog,  but remember that it's a common problem with aging dogs.   Your dog may not even be aware that they have eliminated on themselves.   They simply may not be able to stop themselves from urinating.   Urinary incontinence,  however,  is also a symptom of kidney disease where your dog might also show significantly increased thirst,  decreased appetite,  lethargy,  vomiting,  and fever.   It can not be emphasized enough of how important it is to catch kidney disease early and treat it.   Kidney disease is extremely damaging,  even life threatening,  to your dog.
Be aware that when your dog is having a bladder problem,  accidents will probably happen in the house,  no matter how well they've been house trained.   You may not realize it,  but punishing these mistakes can compound stress your dog is already feeling around eliminating in the wrong spot.
WHEN YOUR DOG STARTS LOSING WEIGHT
As a rule senior dogs will lose or gain a little bit of weight as they age,   but weight loss is a significant symptom for many serious diseases dogs get as they get older.   If the dog exhibits increased thirst,  increased appetite,  and still lose weight,  they could be suffering from diabetes.   Because diabetic dogs cannot properly absorb sugar,  your dog may be suffering from malnutrition,  even if they're eating heartily.   When diabetes ( and malnutrition alongside it )  progresses untreated,  the effects of malnutrition may actually suppress their appetite.
Unintentional weight loss in your dog can also be a symptom of bladder stones,  congestive heart failure,  kidney disease,  an upper urinary tract infection,  or Cushing's disease.
YOUR DOG IS GAINING WEIGHT
Gaining weight is a normal part of a dogs aging process,  but can also be a symptom of hypothyroidism.   Nonetheless,  obesity itself can put a very large strain on your dog's body.   Obesity can cause bone and joint problems such as osteoarthritis and hip dysplasia,  it weakens cardiovascular health,  and makes it difficult for pets to exercise.   Checking your seniors figure to prevent excessive weight gain can also  prevent a lot of other diseases.
YOUR DOG SEEMS UNUSUALLY DISORIENTED
Cognitive dysfunction which is similar to Alzheimer's for dogs,  can occur if your dog's mental faculties begin to decline.   Fifty percent of all dogs over ten years of age exhibit at least one symptom of cognitive dysfunction,  which means that the older your dog gets,  the more likely they will suffer from this condition.   Keep an eye out for behavioral changes,  increased hours of sleeping within a 24 hour period,  decreased sleep at night,  tremors,  pacing,  and poor potty training habits as these are all symptoms of cognitive dysfunction.
YOUR DOGS WOUND WON'T HEAL
Just like us humans,  dogs are much more likely to develop cancer as they age.  Just like cognitive dysfunction,  fifty percent of dogs over ten years old will develop cancer at some point in their lifetime.   It's a disease that's most easily treated when caught early,  so you'll want to be on the lookout for lumps,  tumors,  lameness and enlarged lymph nodes.   Since these can be difficult symptoms to recognize,  especially in older dogs,  keeping a close eye on your dog's wounds is a good way to gauge for cancer,  since the decreased  immune function associated with cancer will keep your dog's wounds from healing in a normal amount of time.
MY DOG'S BREATH IS VERY SMELLY
Many dogs,  especially those who get into garbage,  have bad breath,  but excessively smelly breath is a symptom of the most common ailment in older dogs,  periodontal disease.   Luckily,  this disease is easier to spot than many other age-related diseases,  so be on the lookout for pain while chewing,  loss of appetite,  tooth loss,  bleeding gums,  difficulty chewing,  or chewing only on one side of the mouth,  as these are common symptoms of periodontal disease.
HERE ARE SOME ESSENTIAL SUPPLEMENTS FOR DOGS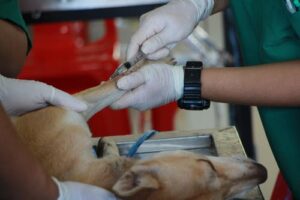 We use glucosamine,  chondroitin sulfate,  and other nutritional supplements often to treat dogs with arthritis.   The reason is clear:  Arthritis will afflict most dogs as they age.   Unfortunately,  dog owners are veterinarians rarely notice the early warning signs of arthritis because dogs tend to hide awareness and discomfort until the arthritic changes in joints have become severe.
When we discuss glucosamine and chondroitin sulfate and their effect on arthritis,  it is important to note that no nutritional supplement will correct structural damage to a dog's joints.   If there are calcium deposits,  scar tissue,  missing or torn cartilage,  or changes to the bones at the joint surface,  these abnormalities will remain present and will continue to affect the animal regardless of nutritional intake.
Supplements added to a dogs diet,  glucosamine,  chondroitin  sulfate,  omega – 3 fatty acids,  vitamin E,  selenium,  and MSM  ( methylsulfonylmethane ) – can help in decreasing inflamation and improving the body's ability to repair and strengthen joint tissues.   And while high-quality supplements are very safe,  they tend to work best in combination with other forms of arthritis treatment.
WAYS TO MAKE YOUR DOGS LIFE EASIER TO LIVE WITH ARTHRITIS
HOW TO TREAT A DOGS ARTHRITIS
While it is difficult to remodel an arthritic joint without surgical intervention,  attempts are usually made to reduce joint inflammation and pain,  which will make the dog more comfortable even when the underlying arthritic changes still remain.   It is important to remember that many of the medications discussed below can have significant side effects when used improperly or in especially sensitive individuals.   Never give your dog any prescription or over – the – counter medication without first consulting a veterinarian.
STEROIDS
Prednisone,  dexamethasone,  and other corticosteroids will markedly reduce swelling and other inflammation in arthritic joints.   But there is a downside to the use of steroids for long – term palliation of arthritis:  they can actually contribute to additional joint damage and breakdown and have other,  unwanted side effects.   Also,  corticosteroids can interact badly with other medications commonly used in the treatment of arthritis.   For these reasons,  and due to the fact that newer,  safer options now exist,  veterinarians do not prescribe corticosteroids for arthritis in dogs as often as they use to in the past.
NSAIDS
There are non – steroidal anti – inflammatory drugs that can have noticeable,  beneficial effects for the arthritic dog.   However,  NSAIDs that are intended  for human use have a high incidence of potentially serious side effects in dogs.   NSAIDs like Etogesic,  Rimadyl,  Metacam,  and Deramaxx have been designed specifically for dogs and are much safer than drugs like ibuprofen or aspirin.   However,  these  "doggy"  NSAIDs can still cause gastrointestinal upset and in rare cases liver or kidney dysfunction.   NSAID use in dogs should always be supervised by a veterinarian.
SOME OTHER RELIEVERS
Other pain-relieving medications like tramadol,  Galliprant,  Amantadine,  and gabapentin may be prescribed by veterinarians,  particularly if a dog's arthritis is severs or does not respond to other forms of treatment.